Check out this article on Straits Times yesterday...sounds fun...maybe I should go try it out ;)

June 19, 2005
Hockey with fins


Dive right into the world of underwater hockey, a game which hinges on how long playerscan hold their breath
By Ng Mei Yan
IT IS hockey with a difference.
PLAYERS ARE TOGGED OUT IN SWIMWEAR, SNORKELS, FINS AND GLOVES and the hockey sticks are a mere 0.3m long. Besides, there are no risks of falling or knocking against a hard surface. -- JOEY CARPIO

Players do not don jerseys and helmets. Instead, they are decked out in swimwear, snorkels, masks, fins and gloves.
The hockey sticks are only one foot (0.3m) long and the metal puck weighs about 1.5kg.
Check out underwater hockey, the latest aquatic activity to hit Singapore.
The sport has taken off, thanks to Filipinos Joey Carpio, a 36-year-old retail consultant, and Christine Alindada, a 24-year-old banker, as well as Australian geologist Greg Bush, 37. Mr Carpio and Mr Bush used to represent their countries in global competitions.
By e-mail, leaving messages on the Fins- Online forum for divers and word-of-mouth, they held a game for the local community.
ORIGINS OF THE GAME
A GROUP of British divers created underwater hockey in the 1950s to maintain their physical strength during the non-diving winter season.
There were eight players on each team, two of whom were substitutes, prompting the creators to call each team an octopus. The stick which was used to move the puck around was known as the pusher.
Together, the game became known as 'octopush'. Back then, snorkels could not be used.
Today, underwater hockey is played in a 25m by 15m pool, between 2m and 3.5m deep, with six members on each side and four substitutes. Armed with a 0.3m-long wooden stick, each team tries to score goals by pushing a 1.5kg metal puck into a long trough at the end of the playing field.
About 30 countries have picked up the sport, including Australia, the United States, New Zealand, The Philippines and Belgium. The sport's most revered competition is the Underwater Hockey World Championships, held once every two years.
'We wanted to do it because we love the sport and we long to keep practising it to keep fit,' said Mr Carpio.
Their first session, held last August, attracted 16 people, most of whom were fin-swimmers from the Singapore Underwater Federation (SUF) or diving enthusiasts.
Some had played the sport before or seen it on TV but many had never heard of the game.
With help from the SUF, Mr Carpio, Ms Alindada and Mr Bush secured the Queenstown Swimming Complex as a training venue.
There are now about 40 active members. Practices are held on Tuesdays and Fridays.
Ms Alice Chong, a 29-year-old accountant, is one fan who has hardly missed a training session since she started last September.
'It is fun, it is challenging and it's new, so everyone starts at the same level and people of all ages can come in to try it out,' she said.
Engineer Twang Say Koon, 46, said: 'The game tests your endurance and how long you can hold your breath, but the thrilling part is in scoring goals.'
He was accompanied by his two sons, Darryl, 17, and Jerryl, 11, who is the youngest player. 'It is also like a family gathering for us,' Mr Twang said.
The members come from 10 countries, including Singapore, Australia, the Philippines, the United States and South Africa.
'It is a great learning experience because we learn how they play the game in different countries,' said Ms Chong. 'After the game, we would...introduce them to our local food.'
'For the most part, we get along very well even if we may have different opinions on things,' said US aviation consultant Kim Wolfley, 47, the oldest member in the club.
So what is most difficult about playing underwater hockey?
'Imagine running at top speed across a football field and holding your breath. Now imagine doing it underwater,' said Mr Carpio.
Another challenging aspect is the three-dimensional playing area.
'In the water, other players can come from the front, behind, left, right, top and bottom. You get attacked from all directions,' he said.
Communicating with teammates during the game can also prove tricky. That is when constant practice comes in handy.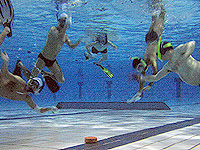 IT IS A CHALLENGE to play in the three-dimensional aquatic zone, where other players can attack from the front, back, left, right, top and bottom.




'Then you'll know your players well and when they're going to need you,' he said.
Though underwater hockey is a strictly non-contact sport, injury is inevitable.
'I suffered bruises here and there because I sometimes positioned myself right behind a player who suddenly dived,' said Ms Chong.
'But in this sport, unlike football or basketball, we don't have the risk of falling. There is no hard surface which you may knock against,' she added.
However, not everyone takes to the game.
'It is very important that you are comfortable in the water, so naturally, swimmers, divers and leisure swimmers enjoy it more,' said Mr Carpio. 'If you come regularly, you will not only improve in hockey but also in swimming and overall cardio health.
'And a lot of people get hooked on it.'
The Singapore Underwater Hockey Club trains at the Queenstown Swimming Complex every Tuesday and Friday from 7.30pm to 9pm. Call Mr Joey Carpio on 9742-3553 for enquiries.